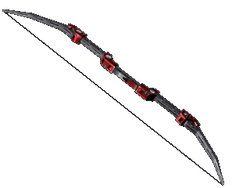 Tek-Bow
Production information
Technical specifications
Usage
The high-tech brother of the ancient hunting weapon of the Saquin Nation, no Turok would be complete without it. This weapon functions in precisely the same manner as it did in Turok, and can still fire both normal arrows as well as Tek arrows.
Ad blocker interference detected!
Wikia is a free-to-use site that makes money from advertising. We have a modified experience for viewers using ad blockers

Wikia is not accessible if you've made further modifications. Remove the custom ad blocker rule(s) and the page will load as expected.